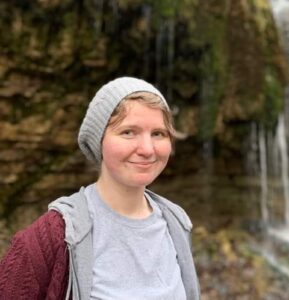 Interview with Joss Childs,
BM Fellow and
Hugoye
Staff
Meet Joss Childs, an alumna of our fellowship program and now an Editorial Assistant for Hugoye encoding articles in TEI XML. Currently a senior at Mount Holyoke College, double- majoring in Religion and Greek, Joss received the 2020 Dr. Nebil and Mrs. Jennifer Aydin Fellowship in the Digital Humanities. She loved her work so much she stayed on as staff! We interviewed her recently about her projects for Hugoye and what it's been like working during the pandemic.
How did you get involved with Syriac Digital Humanities (DH) initially?
"I first learned about Syriac DH when I took Syriac I at Beth Mardutho a couple of summers ago and heard the fellows present about their projects. I was blown away by the work that they were doing and wanted to get involved however I could."
During your fellowship and still today, you concentrate on encoding articles for Hugoye, our peer-reviewed open-access journal for Syriac studies. What does XML-encoding articles involve?

"I encode Hugoye articles according to the TEI guidelines, which are a set of rules designed for the digital humanities on how to encode texts in XML. For most Hugoye articles, this means tagging when words are italicized/in different alphabets/have a footnote/etc. so that the formatting will load correctly on article's page. It's surprisingly fun and educational work, since I end up reading a lot of articles as I'm encoding them that I'd never have read on my own."
Many of our DH fellows stay in touch with us after their summer, but few actually stay on as staff! What made you want to continue with the project after your fellowship concluded?
"Besides the enjoyment I get out of reading all these new things, I continued working on this project after my fellowship ended because I strongly believe in the importance of making academic resources as easily and widely available to people as possible. I've also got a personal investment in making sure all of Hugoye is encoded and available, since I cite Hugoye articles in my own work pretty frequently and it will be helpful to have an accessible, searchable version of all those articles."
The pandemic has impacted everyone's work (and personal) lives this year. What's been your experience working through these challenges?

"Doing my fellowship and my senior year of college remotely has definitely been strange. I'm a little old-fashioned when it comes to technology, so adjusting to doing all of my classes and research online has been hard. It's also made me really appreciate just how far technology in general, and the digital humanities in particular, has come—regardless of the pandemic, I'd never have been able do the sort of research I've been working on this year without easy access to digital manuscripts."
It sounds like it's been empowering work. Have you seen your projects for Beth Mardutho impact your current life interests?
"I've always thought that I was just "bad at computers". Trying to understand how digital tools worked was an intimidating and overwhelming idea, so I assumed that meant that I couldn't use them. My summer fellowship has made me feel much more confident in my ability to learn to use new digital humanities tools and in my technological skills more generally."
Read the latest issue of Hugoye here. Learn more about our summer fellowships in the Syriac digital humanities here.